Ideas that move Fidelity forward.
The Fidelity Center for Applied TechnologySM, or FCATSM, is a catalyst for breakthrough achievements in research and tech. We assess, test and scale concepts and ideas that advance Fidelity's market leadership and enhance every customer's experience. FCAT teams are curious, inquisitive, and intently focused on the future.
The Future Is Now
The Next Generation of Technology
Watch and see how FCAT is exploring the future, working on a host of rapidly evolving technologies which may positively impact the firm and its customers.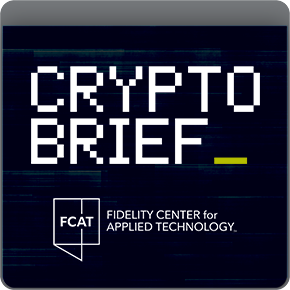 Podcast
FCAT Crypto BriefTM
Looking for timely commentary on crypto, blockchain, DeFi, and the intricacies of the ecosystem? Listen in as our working technologists dig beneath the surface and analyze the latest news and trends. The FCAT Crypto BriefTM is a lively, 30-minute roundtable forum where some of most important stories are dissected and discussed. Join us every week as your hosts – Jason, Jack, Ryan, and Parth – point out what's up, and prepare us for what's next!
Thinking Ahead
FCAT teams are always looking beyond the horizon. We analyze social trends and experiment with an array of technologies that may impact Fidelity and its customers over the next five years. 
Blockchain
BY: VANESSA KARGENIAN | Aug 10, 2022
Built on public blockchains, Web3 aims to diminish single point of failure risk and afford users more opportunity to be fairly compensated for their contributions. It's only beginning to emerge, but once fully operational, Web3 has the potential to unleash a new era of value creation and innovation.
Artificial Intelligence
BY: SARAH HOFFMAN| June 6, 2022
Gartner predicts that by 2024 80% of technology services will be built by non-technical professionals.1 Fueling this trend is the rise of no-code and low-code development, AI-enabled software that lets people with little to no programming experience generate their own apps. Is such a thing even possible?
Blockchain
BY: JOHN DALTON | May 10 2022
Synthetic biology is the promising and controversial technology platform that combines biology and artificial intelligence, opening up the potential to program biological systems much as we program computers.
FCAT recently hosted Amy Webb, founder of the Future Today Institute, and the author of "The Genesis Machine: Our Quest to Rewrite Life in the Age of Synthetic Biology," where she discussed the science, and the ethical, moral, and religious issues surrounding synthetic biology
FCAT
Digital Asset Tracker
Use Digital Asset Tracker to aggregate and track your cryptocurrency portfolio on your iPhone. Learn more.